Congratulations to our LHS art students for their work being showcased at the Houston Livestock Show & Rodeo!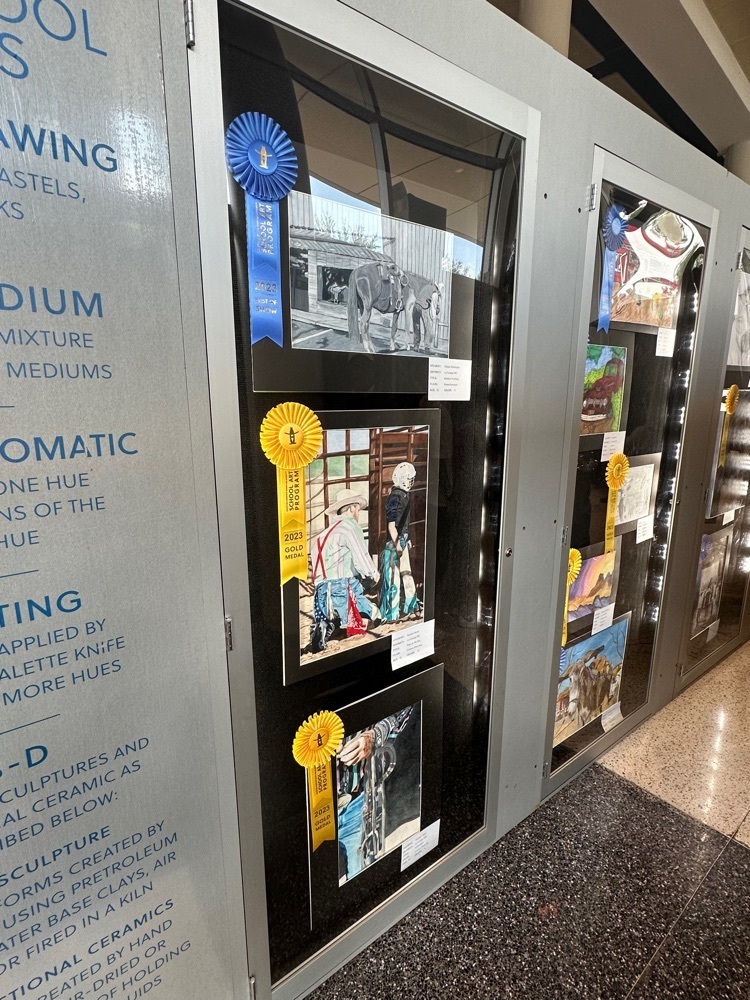 Great performance tonight Indoor Percussion and Winter Guard Good luck at contest! Go Leopards!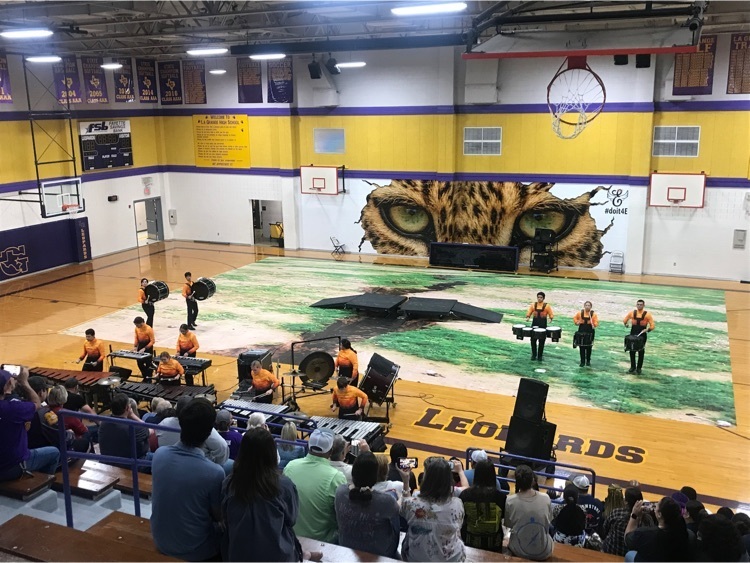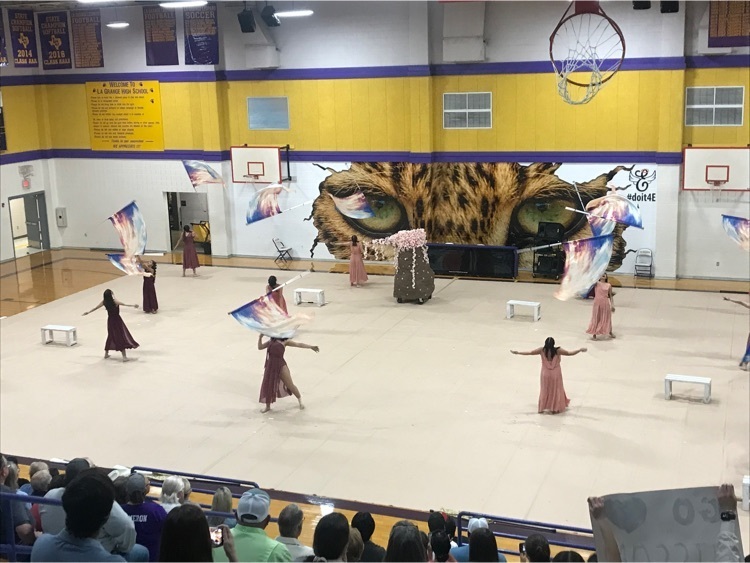 Our 1st Annual Special Education Prom was a huge success. Thank you Ms. Ahrens, Ms. Sullivan, Ms. Black, Ms. Carter, Ms. Kensicki, Ms. Morin, Ms. Spoeltra, and Ms. Staal. Also, thank you student council representatives for participating and DJ Alivia for the music!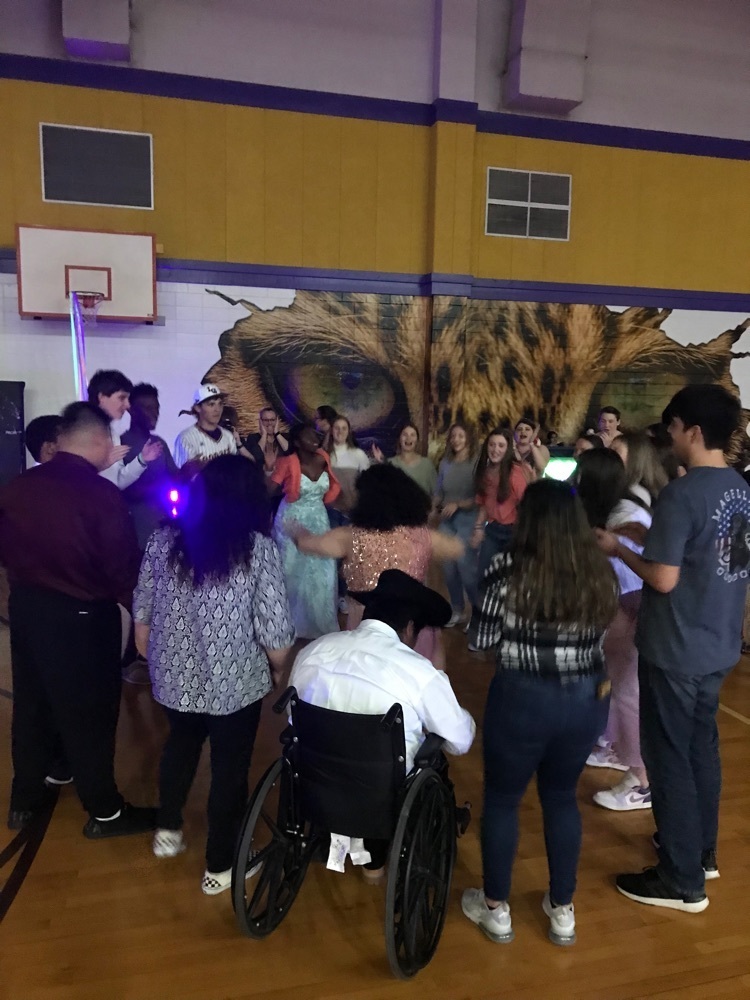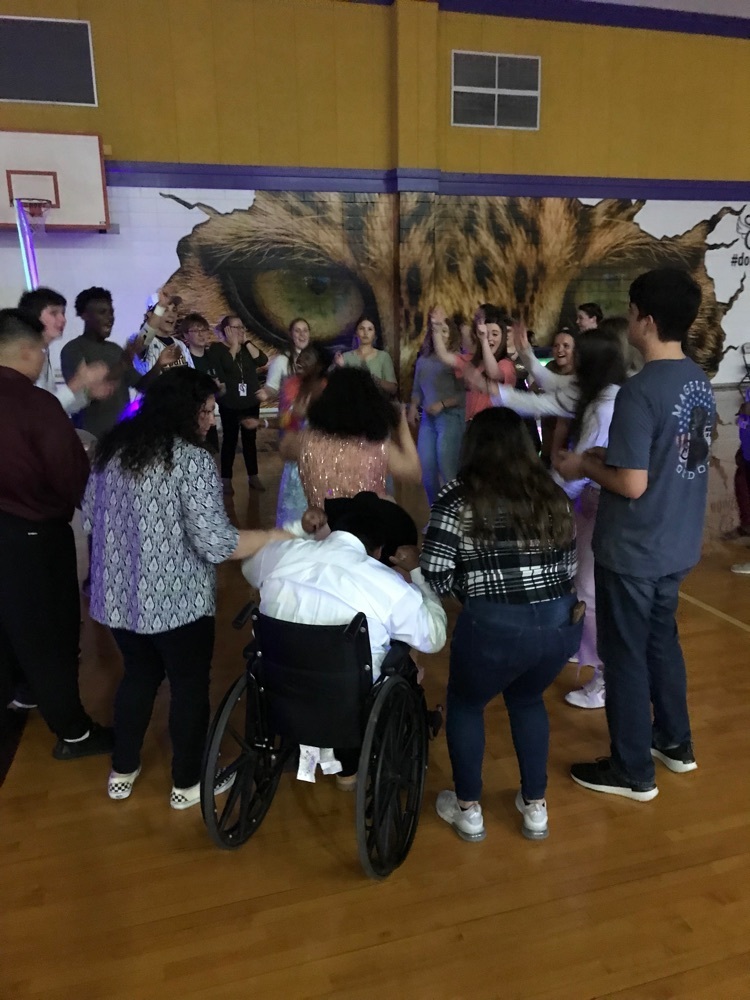 Thank you LHS Cosmetology students and Ms. Bush for pampering our students as they prepare for their Special Education prom today. Our students received hair, nails, and make up services today.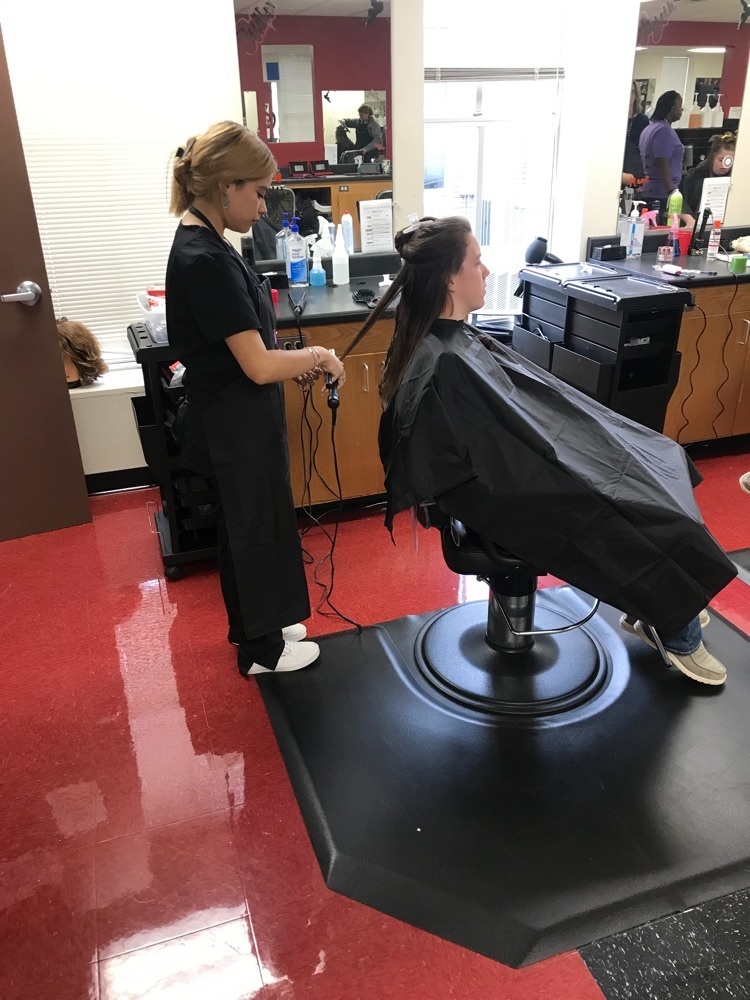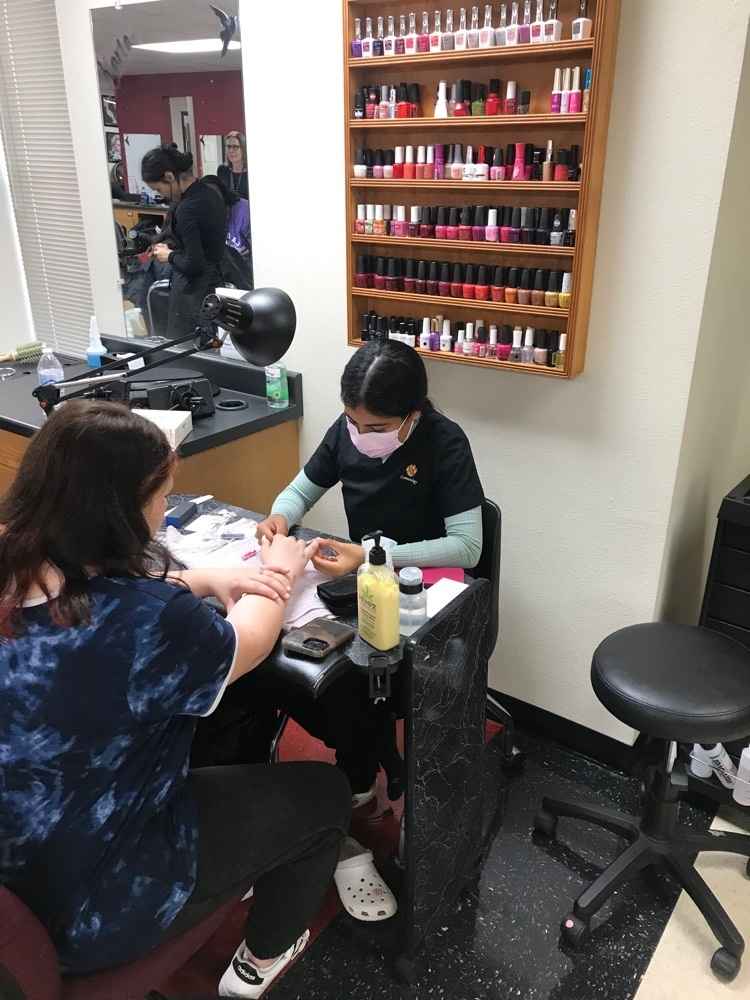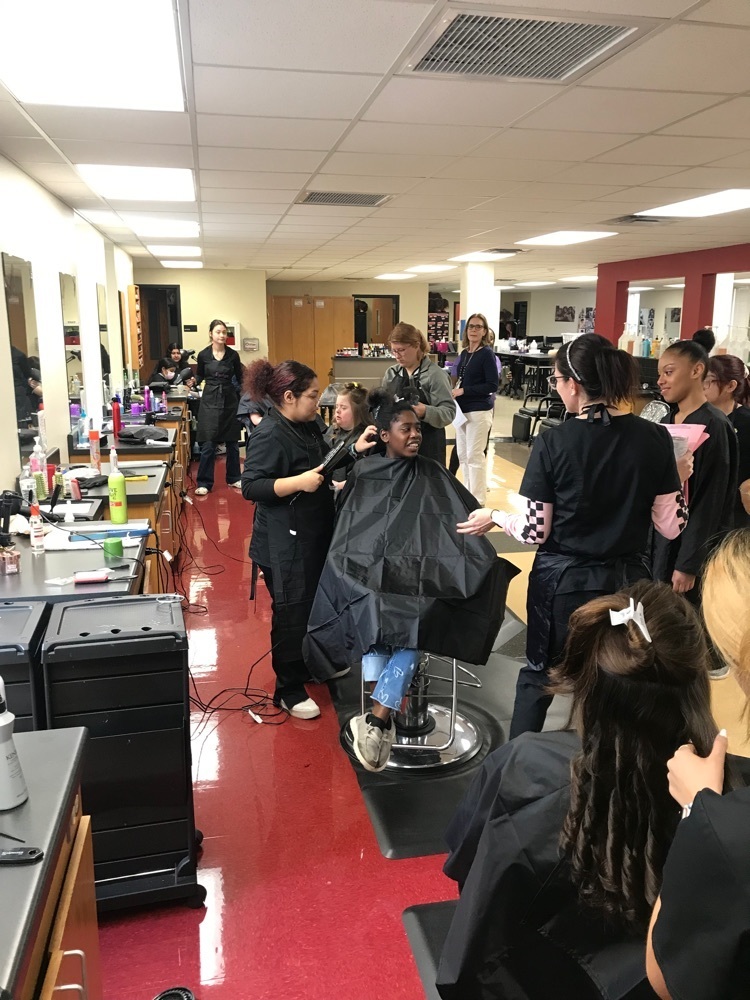 This past Saturday, March 4th, the LHS Winter Guard competed at the Texas Color Guard Circuit Contest at Davenport High School and placed 2nd Place - Silver - in Novice Class! Congrats to our Winter Guard Unit!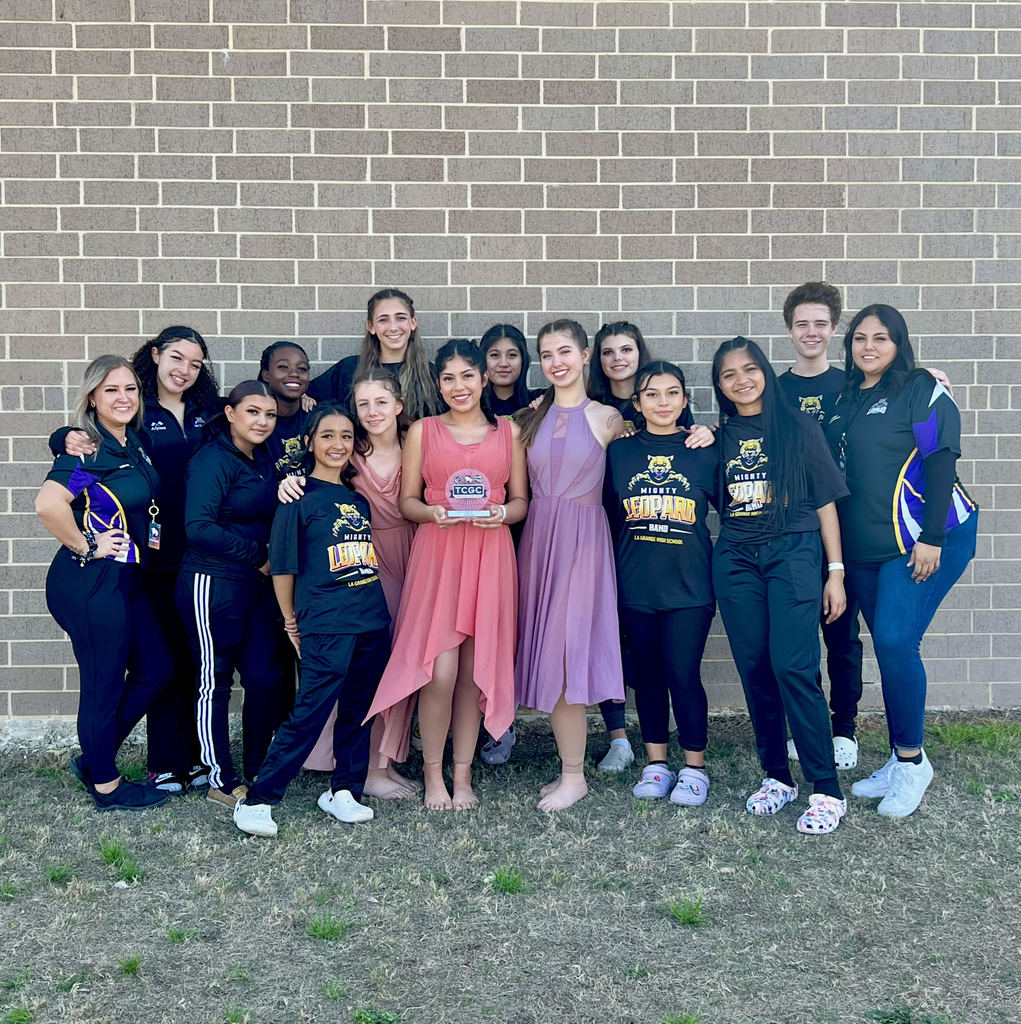 LHS German Classes & Club Present to you a Town Performance of their State Competition Events Please come by and see what German Students have been doing and their many talents. Wednesday, March 8, 2023 La Grange HS Cafeteria 5:30 to 6:30 On display will be many of the artistic projects German students entered into our regional and State competitions in February. Folk Dance performance - 5:45 PM Polka Band performance - 6:15 PM Go Leopards!
8th Graders will be meeting with counselors to select next year's courses on Monday, March 6th. They will do this through their Xello account and receive their login information on Friday, March 3rd. 8th Graders are encouraged to read their email they received for more details on Pathways, Xello, and their Course At-a-Glance document.

LEOPARD RELAYS UPDATE: With the impending weather, we are going to start the Varsity Girls & Varsity Boys running events at 3:45pm beginning with 3200m. We can run JV/V girls and JV/V boys 3200m together. We will then precede in normal event order (scratching the throwers relay) for the Varsity. We will begin with JV field events at 3:45pm. Weather permitting, we will flip at the conclusion of the Varsity running events. If the weather doesn't hold, then that would conclude the meet. Thanks for rolling with the changes and we'll see y'all this afternoon!

It's Leopard Relays day and we are excited to be hosting some great teams from around the area! Field events kick off at 3:45pm, the 3200m at 4pm. We look to get the running events started around 5:45pm. #LeopardStrong #LeopardSpeed #WeAreLG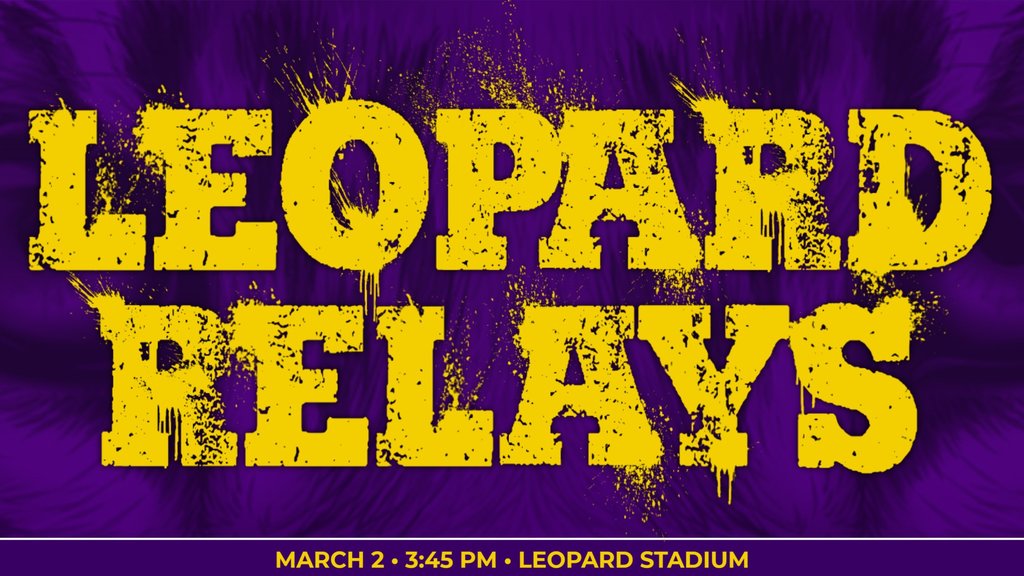 Today at Smithville HS, 46 members of the Mighty Leopard Band performed at UIL Solo & Ensemble Contest, and 31 advanced to UIL State Solo & Ensemble Contest! Congratulations to the following students on earning a Division 1 medal. An * denotes they are advancing to State. Class 1 Soloists: Jill Newton, Saxophone Jose Estrada, Trumpet* Westin Smith, Euphonium* Vanessa Adams, Marimba Trey Dalton, Marimba* Josh Little, Marimba* Marissa Muras, Marimba Gabriel Vega, Marimba* Juan Zuniga, Marimba* Class 3 Soloists: Gavin Cook, Marimba Slade Jacemenek, Piano Class 1 Ensembles: Woodwind Quartet: Hailee Martinez, Flute* Autumn Wolf, Oboe* Chloe Coufal, Clarinet* Devin Cooper, Bassoon* Clarinet Quartet: Jessica Torres* Hannah Holman* Anthony Anzaldua* Oswaldo Castaneda* Saxophone Quartet: Dominick Smith, Alto Sax* Jill Newton, Alto Sax* Jackson Bennett, Tenor Sax* Ray Moore, Baritone Sax* Brass Sextet: Jose Estrada, Trumpet* Jonathan Delgadillo, Trumpet* Meadow Taylor-Marklin, Horn* Ricardo Ramirez, Trombone* Westin Smith, Euphonium* Brazos Vick, Tuba* Brass Quintet 1: Edgar Monjares, Trumpet* KJ Karstedt, Trumpet* Meadow Taylor-Marklin, Horn* Layne Huenefeld, Trombone* Rebekah Valencia, Tuba* Brass Quintet 2: Gerardo Gomez, Trumpet* Alejandro Ramirez, Trumpet* Matthew Vecera, Horn* Aiden Johnson, Trombone* Jacob Bridgefarmer, Tuba* UIL State Solo & Ensemble Contest takes place Memorial Day Weekend. Congrats to all of our students today, and good luck to our State qualifiers! We're proud of you!
Reminder: Dual Credit Mandatory Meeting is Today (See High School News Website) 10th & 11th graders planning to take a dual credit class next school year (2023-2024): A mandatory Dual Credit Informational Meeting will be hosted by Blinn personnel on Monday, Feb. 13th at 5:30pm in the HS Cafeteria. Students will be required to submit their ApplyTexas application by this date in order to enroll in dual credit courses. Computers will be available at 4:30pm on Feb. 13th to allow for students/parents to utilize before the dual credit informational meeting. Counselors will assist with this process. Interested students will need to complete the Dual Credit Interest Survey (google form that was emailed to 10th/11th graders). Please see this link for detailed information.
https://www.lgisd.net/o/lhs/article/972768
Class of 2024 and 2025: The National Honor Society is a national organization for high school students. Selection is based on four criteria: scholarship, leadership, service, and character. The La Grange Chapter is beginning the selection process for new members for the 2023-24 school year. If you have taken at least one advanced class and believe you have a cumulative GPA of 90.0 or above through the fall semester of Sophomore (Class of 2025) or Junior (Class of 2024) year, please complete the google form: 2023-2024 NHS REQUEST FOR GPA CALCULATION that was sent to your school email. The form must be completed by the student through their school email by the end of the day on Friday, February 24th. If you did not receive the email, please send an email to
hscounselors@lgisd.net
with NHS in the subject line. Students who submit the form after February 24th will be ineligible to apply for the 23-24 school year. More details about NHS and the NHS Bylaws can be found on the school website:
https://www.lgisd.net/o/lhs/page/national-honor-society
Today we celebrated CTE month with spa facials and new jelly mask!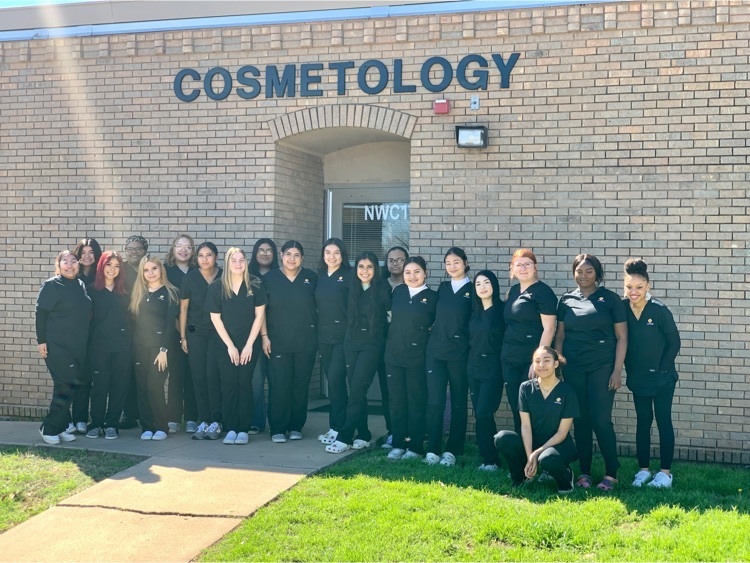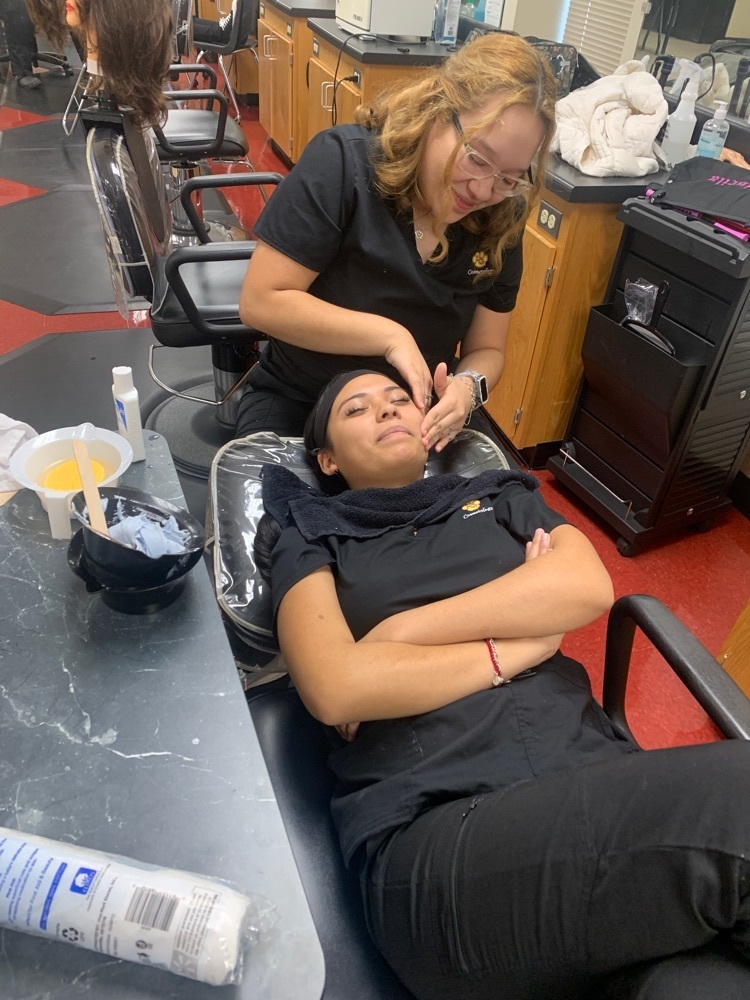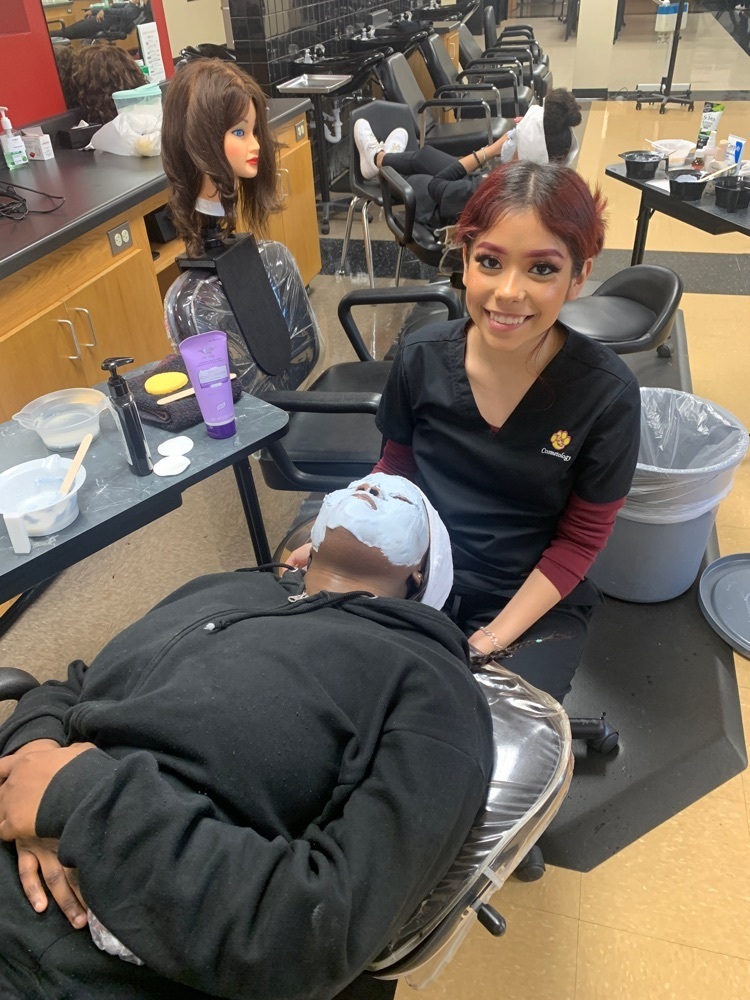 Congratulations Alivia Eindorf and Landon von Minden - 3rd place finish in District 22-4A Cross Examination Debate!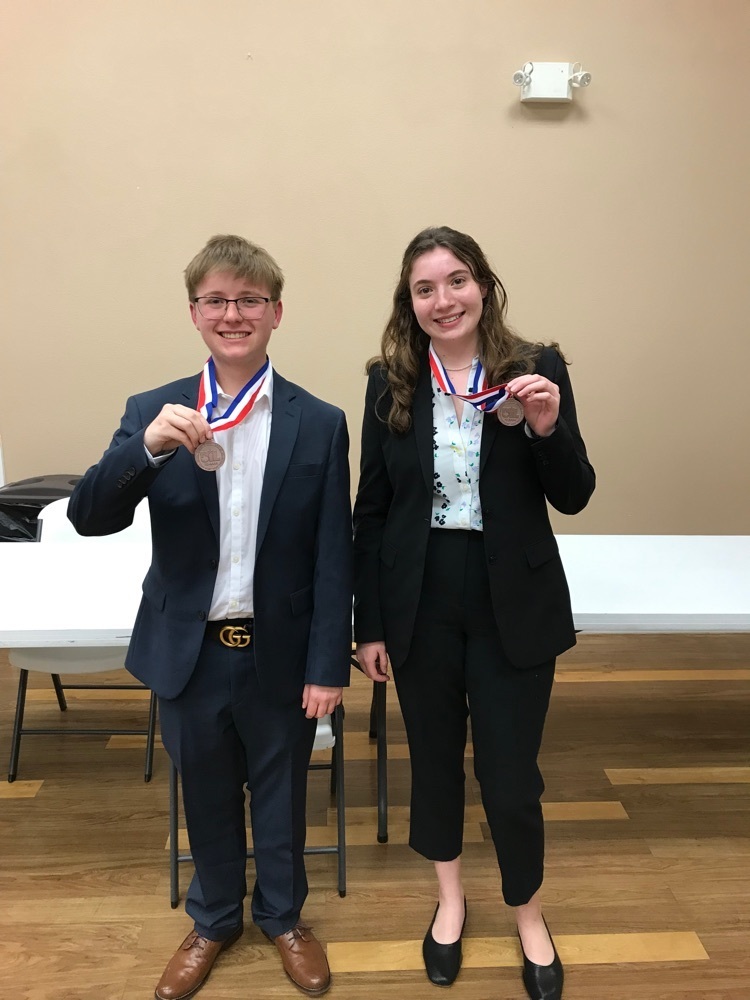 Please join us for our Incoming Freshman/New Student Parent Meeting in the LHS Gym on Thursday, February 9th at 6:15 PM – This meeting will cover graduation plans, courses, honors courses, programs of study, and endorsements. Counselors, Department Heads and Administrators will be available to answer any questions about course selection. Though this meeting is geared for incoming 9th grade students/new students and their parents/guardians, we encourage all high school students and parents/guardians to attend as a refresher on course selection guidelines. Go Leopards!

Please join us for our LEPS Forum 5:00-6:00 PM in the LHS Cafeteria on Thursday, February 9th – LEPS Forum is an opportunity for you and your child to interact with high school teachers regarding his/her future classes. Booths will be set up and teachers will be available to discuss Core and Elective Class Information, AP Course information, and Club/Organization Information. Go Leopards!

NEW DATE ALERT! Our Winter/Spring Meet the Athlete has been rescheduled for Wednesday, February 15. Booster Club begins serving @ 5:30pm in the cafeteria and athlete introductions will begin in the HS gym at 7pm. 🏀🏊⚽🏌️⚾🥎🎾🏋️🏃🐆#WeAreLG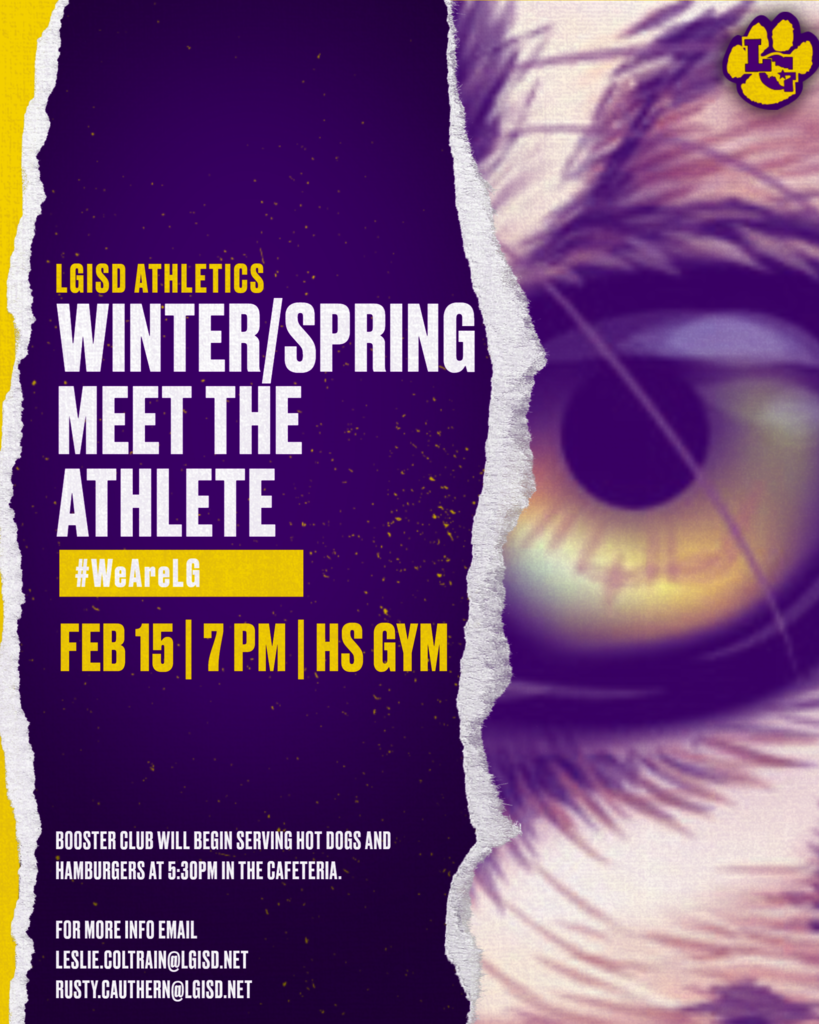 LHS Debaters Take Round Rock At the Round Rock High School UIL Academic Tournament (RRIAT) on Saturday, January 28, the C-X debate team of Alivia Eindorf and Landon von Minden went undefeated and won the Varsity C-X division. To win 1st place, they beat C-X teams from Robert G. Cole (twice), Liberty Hill, and Smithville. LHS debaters, including Eindorf and von Minden, will compete at the District 22 4A C-X Debate Tournament on Wednesday, Feb. 8, at the Randolph Rec Center in La Grange, with a chance to advance to the state C-X debate tournament in March.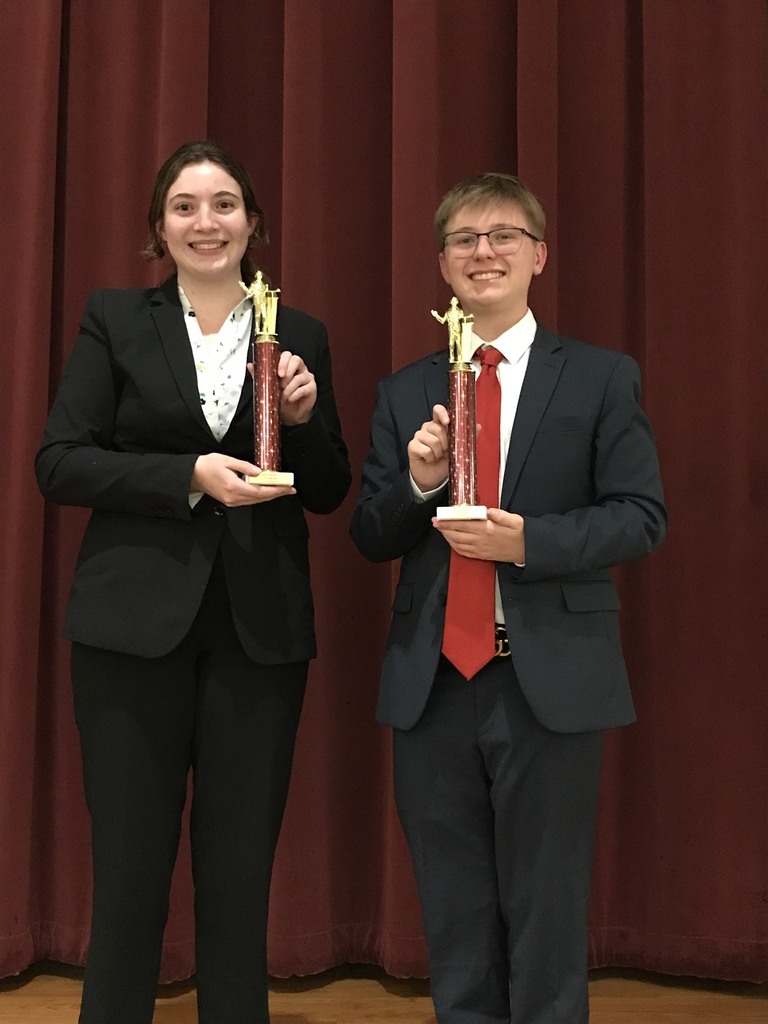 Congratulations to all students who represented La Grange High School at the "Shiner Shootout" UIL academic practice meet on Thursday, January 19, 2023. Results are: Accounting - Coach Susie Morgan 6th place - Kylie Zbranek Calculator - Coach Nicole Rerich 4th place 12th grade - Kylee Kelley 3rd place 10th grade - Camden Coltrain Computer Science - Coaches Sean Henkel & Brad Harbers 2nd place Team - Garrett Harris, Drew Harbers, Ty Trlicek, Natalie Shepherd 2nd place Overall - Garrett Harris Copy Editing - Coach Lucy Carr 6th place - Phoebe Tucker Current Events - Coach Melanie Bertsch 1st place Team - Landon von Minden, Dominick Smith, Ella Pineda 1st place Overall - Landon von Minden 4th place Overall - Dominick Smith 6th place Overall - Ella Pineda Editorial Writing - Coach Lucy Carr 6th place - Anna Follin Extemporaneous Informative Speaking - Coach Laurie Stork 2nd place - Eleanor Carey Feature Writing - Coach Lucy Carr 4th place - Camden Coltrain 6th place - Meadow Taylor-Marklin Literary Criticism - Coach Laurie Stork 2nd place Overall - Kylee Kelley News Writing - Coach Lucy Carr 2nd place - Nayeli Molina-Cerrito 5th place - Alivia Eindorf Ready Writing - Coach Laurie Stork 2nd place - Ella Pineda 4th place - Kylee Kelley Social Studies - Coach Sarah Jurk Carey 3rd place Overall - Eleanor Carey
Madelyn Kates won first place ($500) & Alivia Eindorf won second place ($100) for Voice of Democracy on the local level. The contest was sponsored by Fayette Memorial VFW Post 5254 and their Auxiliary of La Grange.