Bus Ridership Software
Parents can link to their child(ren)'s bus ridership in the following ways:
Step 1: Go to https://txlagrangeisd.traversaride360.com/ to create an account
Step 2: Link your child(ren) to your account. (Student grade and Student ID number are required) For Kindergarten use "KG" and for Pre-K use "PK"
Step 3: Download the "Ride 360" app on your phone and login to see up-to-date scans
~~~
Parent Letters
February 8, 2021 - Traversa Student Ridership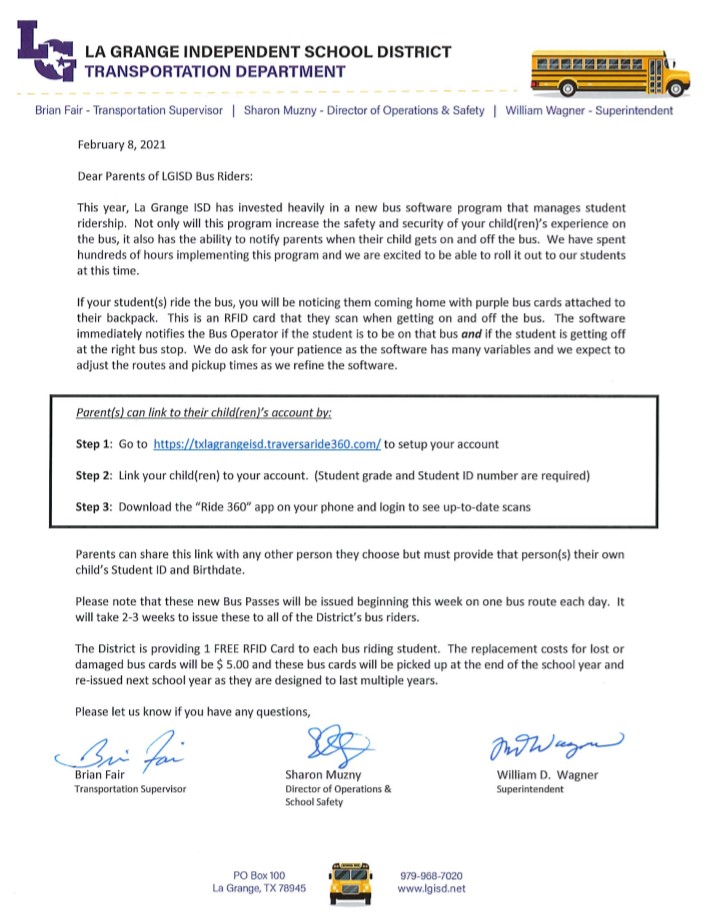 SCHOOL BUS TRANSPORTATION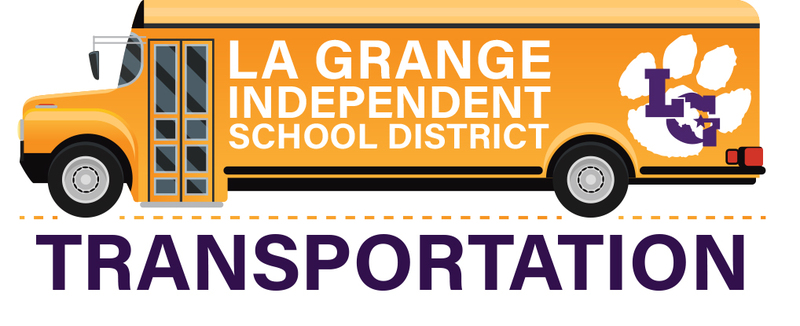 -----------------------------------------------------------------------------------------------------------------------------------------------------
Welcome to La Grange ISD's Transportation Page
Last updated 8/16/2021
We will keep this page up-to-date with the latest news affecting student transportation.
-----------------------------------------------------------------------------------------------------------------------------------------------------
No bus transportation changes will be made after August 16, 2021. All changes thereafter can be requested at any time but will only go into effect on the 1st and 15th of every month (Starting September 1, 2021).
La Grange ISD issues 1 free card to each student riding a bus. Any lost, broken, or replacement cards are $5.00 each. Every child must present this card and scan on and off the bus every time. Failure to do so will forfeit their bus riding privileges as outlined in the Student Handbook. This card is designed to last multiple years and students are responsible for maintaining their card over any student holiday and/or summer break.
School Board Transportation Policies (excerpts from the 2020-2021 Student Handbook)
Transportation (All Grade Levels) School-Sponsored Trips
Students who participate in school-sponsored trips are required to use school-provided transportation to and from the event. However, in accordance with campus procedures, a parent may provide written consent to the superintendent for his or her child to ride with or be released after the event to the parent or another adult designated by the parent. [See School-Sponsored Field Trips on page 102.]
Buses and Other School Vehicles
The district makes school bus transportation available to all students living two or more miles or within the designated hazardous zone within 2 miles from school and to any students who are experiencing homelessness. This service is provided at no cost to students. Bus routes and stops will be designated annually. Any subsequent changes will be posted at the school and on the district's website. For the safety of the driver and all passengers, students must load and unload district vehicles only at authorized stops and drivers must unload passengers only at authorized stops. At no time shall a parent follow the bus if a student missed the bus.
La Grange ISD School Board policy allows students to be transported to and from:
1. Parent's home
2. Grandparent's home
3. Licensed daycare. (The list can be found here)
In order to properly monitor the safety of our bus riders, LGISD Transportation will limit students to one pick up location in the morning and one drop off location in the afternoon. By limiting pick up/drop off locations, bus routing is more consistent, bus rosters change less and student safety is enhanced.
A parent may designate a child-care facility or grandparent's residence as the regular pickup and dropoff location for his or her child. The designated location must be an approved stop on an approved route. For information on bus routes and stops or to designate an alternate pickup or drop-off location in nonemergency situations, contact Sharon Muzny, Director of School Operations and Safety at 979-968-7000.
Emergency changes to student dropoff cannot be made after 1:00 p.m. and must be approved by the student's principal. Students are expected to assist district staff in ensuring that buses and other district vehicles are clean and safe. When riding in district vehicles, students are held to behavioral standards established in this handbook and the Student Code of Conduct.
Food will not generally be allowed on route buses unless the bus operator approves the privilege.
Phones will be allowed with headphones, with only 1 earbud in for safety, and must remain on silent.
A person, adult or student, commits an offense if the person intentionally disrupts, prevents, or interferes with the lawful transportation of children to or from school or an activity sponsored by a school on a vehicle owned or operated by an independent school district. See the Student Code of Conduct. 117
For safety reasons, parents may not pick up students in the bus parking lot at the Elementary campus. Should a last minute change occur in student transportation at dismissal, the office must be notified by 1:00 p.m., otherwise the student will remain on their regular route to be transported to their destination.
Students are expected to assist district staff in ensuring that buses remain in good condition and that transportation is provided safely. When riding in district vehicles, including buses, students are held to behavioral standards established in this handbook and the Student Code of Conduct.
The following rules shall apply to student conduct on school transportation:
1. Passengers shall follow the bus operator's directions at all times.
2. Passengers shall board and leave the bus in an orderly manner at the designated bus stop nearest their home.
3. Passengers shall not stand on the bus when the bus is in motion.
4. Passengers must fasten their seat belts, if available.
5. Passengers shall keep books, band instrument cases, and other objects out of the aisle of the bus.
6. Passengers shall not deface the bus and/or its equipment and will be held responsible for the cost of repairs. 7. Passengers shall not extend head, hands, arms, or legs out of the window, nor hold any object out of the window, nor throw objects within or out of the bus.
8. Passengers will not smoke or use any form of tobacco or e-cigarette.
9. Usual classroom conduct shall be observed. Unruly conduct, including the use of obscene language, will subject the passenger to disciplinary action.
10. Upon leaving the bus, the student will wait for the driver's signal before crossing in front of the bus.
11. Students must obey and respect the orders of monitors or patrols on duty.
12. Students must not try to get on or off the bus or move about within the bus while it is in motion.
13. Students must never stand in the roadway while waiting for the bus.
14. In case of an accident, any personal injury or damage to personal property must be reported at once to the operator, director of operations, or administrator investigating.
15. Students shall not occupy the driver's seat or driver's area.
16. All glass containers are prohibited.
17. All animals are prohibited.
18. Students riding a bus to school are not to leave campus prior to school unless the principal gives permission.
19. Students riding a bus from school are not to leave the grounds after school prior to the departure of the buses unless the principal gives permission. 118
20. Radios, handheld games, CD players, Ipads, and/or Ipods used without headphones, only 1 earbud in at any time, shall be prohibited on regular bus routes.
21. Cell phones may not be used in "speaker mode".
22. Flash photography, of any kind, is prohibited on school buses.
23. Inflatables are prohibited on buses.
24. Video cameras are used on buses.
25. Bus riders are required to adhere to student dress code.
All behavioral problems on the bus will be forwarded to the student's campus assistant principal for follow-up. Misconduct will be punished in accordance with the Student Code of Conduct, including loss of the privilege to ride in a district vehicle. [See the Student Code of Conduct for provisions regarding transportation to the DAEP.]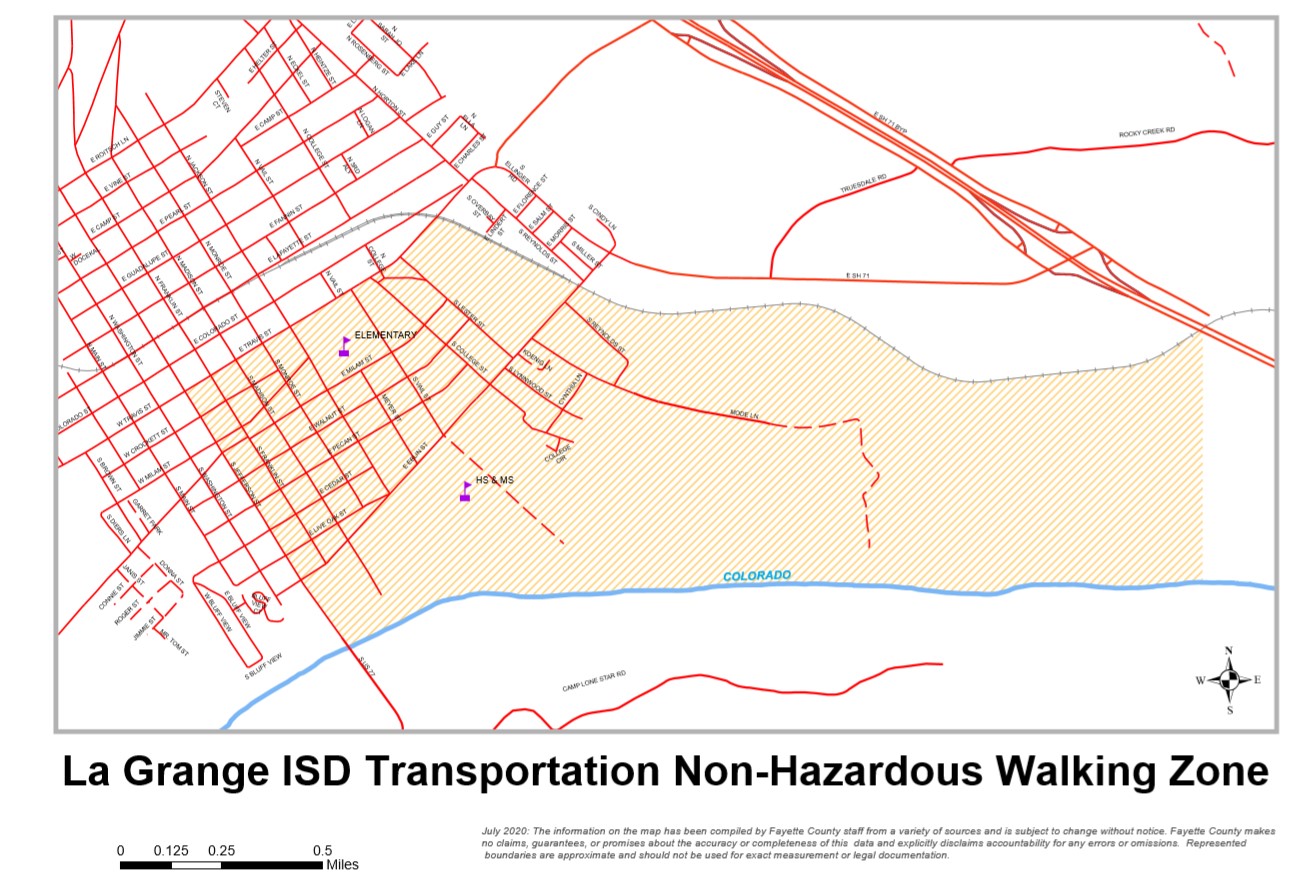 -----------------------------------------------------------------------------------------------------------------------------------------------------
Are you interested in being a School Bus Operator? Do you love kids?
Here are some links to help you prepare for your certifications.
Texas Education Agency Requirements for Bus Drivers

Texas Department of Public Safety Commercial Driver Handbook

The following 6 exams must be passed at a Texas Division of Motor Vehicles location:


Special Requirements

General Knowledge

School Bus

Passenger Vehicles

Air Brakes

Pre-Trip

Once all 6 written exams are passed, potential bus operators must pass the following hands-on tests with DPS:

Pre-Trip Inspection

Air Brake Test

Straight line backing, offset backing, and parallel parking

Driver road test

Texas Education Agency Region 13 School Bus Driver Certification Schedule

We are Hiring!
-----------------------------------------------------------------------------------------------------------------------------------------------------
LGISD Transportation Department Contact Information
For emergencies regarding school bus transportation, please call the your child's campus office. Any emergency changes must be approved by the Principal.
High School: 979-968-4800

Middle School: 979-968-4747

Elementary School: 979-968-4100
Additional contact numbers:
Transportation Facility: 979-968-7020 (M-F: 6am-2pm. Leave a detailed message if no answer)

Transportation Supervisor, Brian Fair: 979-968-7040

La Grange ISD Administration: 979-968-7000