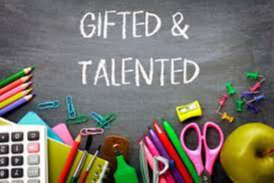 The Gifted and Talented Program in La Grange ISD is committed to meeting the needs of students who demonstrate above average potential or achievement. We believe that all children are unique., all children have talent and all children have different learning styles. We know that gifted students learn at different rates and may need different experiences in order to stimulate and maximize their learning.
KINDER TESTING IN THE FALL
All students in Kindergarten are screened for gifted potential beginning in September.

Students that have qualifying screener scores or that are nominated by parents, teachers, or community members will undergo additional testing. Nominations are due NO later that November 15th.

After testing, students results will be reviewed by a qualified committee for approval decisions. This process will be fully completed before March which is when those seen as have gifted potential would begin the LEAP pull out program.
1ST-11TH GRADE NOMINATIONS FOR LEAP SCREENING PROCESS
La Grange ISD accepts 1st -11th Grade nominations for the Gifted and Talented program in the Spring. The Talent Pool/LEAP programs are designed to provide additional challenge and stimulation for academically talented students. Parents, teachers, and community members may nominate students currently enrolled in LGISD in 1st -11th Grade to participate in the screening process to determine eligibility for the gifted program.

You can get a nomination form from the Elementary school office or print one from the "Forms and Documents" link.

Nominations will be open until February 1st and testing will proceed after that date.

Contact Tenille Adamcik at 979-968-4100 or email to tenille.adamcik@lgisd.net if you would like additional information about the gifted program.
Any student is eligible to be referred by a teacher, parent or community member. This process includes multiple and specific criteria required by the Texas Education Agency. All students referred are tested, teacher input is gathered, and the results are scored on a matrix and evaluated by a qualified committee. Students must qualify based on a preponderance of scores.
RESOURCES