STAFF
Nicole Ramirez
Federal Programs Director
Aunt Bertha
Social Care Network-Search for free or reduced cost services like medical care, food, job training, and more.
211 Texas
This website provides information and resources for assistance locating food, medical care, housing, and more in Texas.
AMEN Food Pantry
The La Grange Food Pantry provides a selection of fresh, frozen and non-perishable foods, depending on availability. There is no charge for any of its services.
Bilingual Education Program Benefits
English as a Second Language Program: Benefits for Your Child
English Language Proficiency Standards
Programa de educación bilingue: Beneficios para su hijo(a)
Programa de inglés como segundo idioma: Beneficios para su hijo(a)
Parents/Guardian Rights English
Derechos de los Padres/Tutores
Region 20 Bilingual/ESL LPAC Information
Title III Parent, Family & Community Engagement Links
Texas Dyslexia Handbook
The Revised State Dyslexia Handbook is available for downloading by clicking on the above link for the English version. The Spanish version is currently being drafted, and will be uploaded as soon as it is finalized by TEA.
Texas English Language Learners Portal
Texas Homeless Education Office
FEDERAL PROGRAMS AT LA GRANGE ISD
La Grange ISD offers the following Federal Programs:
Bilingual Program

ESL Program

Migrant

Homeless

Foster Care

Title IX
Annual Report on Federal Program 2022-23
Information regarding each program may be found by scrolling down or looking in the left column or by contacting Nicole Ramirez, Federal Programs Director, at 979-968-7000, ext. 7030.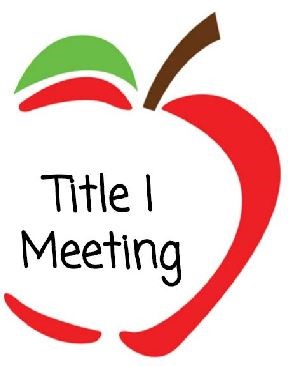 LGISD Bilingual & ESL Program Information
The Process for Serving English Learners in Texas
The Bilingual Program offered at La Grange ISD is based upon the Transitional/Early Exit Model. It is available for students who are identified as Limited English Proficient (LEP). The program provides the following:
Transitions students to English-only instruction over a period of time

Provides literacy instruction in Spanish

Offers instruction in English for social and academic language development
In La Grange, Math, Social Studies and Science are taught in English as indicated in the Bilingual Exception. Elective classes such as art, music and PE are also taught in English. The transition to ESL classes will occur when students enter grade 3.
For more information, please contact:
Bilingual Director: Nicole Ramirez
Email: nicole.ramirez@lgisd.net
ESL Coordinator: Nicole Ramirez
Email: nicole.ramirez@lgisd.net
At La Grange ISD, the English as a Second Language program is as follows:
Gr. PreK - 8: English as a Second Language (ESL)
An English program that serves students identified as limited English proficient by providing a certified ESL teacher in either a pull out or content based model. In the pull out model, the teacher provides supplementary instruction for English Language Arts and Reading. All content areas receive supplementary instruction in a content based model. Students remain in a mainstream instructional arrangement for both programs.
Gr. 9-12: English as a Second Language (ESL) and Sheltered Instruction (SI)
Sheltered Instruction is teaching strategies used to serve students identified as limited English proficient by providing academic subject matter and linguistic assistance to English Language Learners in the form of visuals, modified texts, modified assignments, etc. The teacher makes classroom content comprehensible while students are developing English proficiency.
ADULT ESL (English as a Second Language) and High School Equivalency Exam (GED) Classes at the Norma Webb Center, La Grange ISD
In collaboration with Community Action, Inc of Central Texas, Classes will be held at the Norma Webb Center. Adult ESL and Adult GED Classes in English and Spanish are offered two nights a week, Mon/Wed from 6-8pm. All classes and services are for adults 19 years and older and are free. For more information, contact Dr. Glenda Rose, with Community Action, Inc of Central Texas(512-985-5169) Current Registration Information can be found at https://bit.ly/BastropLeeFayetteAdultEd
ADULT ESL (English as a Second Language) Classes - Classes in La Grange at LGISD Norma Webb Center, located at 543 N Jackson Street. Tuesdays and Thursdays 6-8pm contact Community Action Inc for more information: https://bit.ly/BastropLeeFayetteAdultEd
The Schulenburg Campus of Blinn College offers the following ADULT classes:
GED (General Educational Development) Classes- A class offered to ADULTS (ages 18+) who did not attain their high school diploma. New students may join the class at any time. Meetings are held at the Schulenburg Public Library on Saturdays 9-11:45 am.
ESL (English as a Second Language) Classes - A class designed to assist foreign-born students with learning to speak and understand English. New students may join the class at any time. Class meets at the Blinn College-Schulenburg Campus on Wednesdays 5:30-8:00PM in Room 21.
Adult ESL Class-Flatonia is offered at Sacred Heart church in Flatonia on Tuesdays and Thursdays from 5:30 to 7:30 p.m. Classes are offered at no charge.

Liaison: Nicole Ramirez 979-968-7000, ext 7030
The McKinney-Vento Assistance Act
The McKinney-Vento Act (Section 725) specifies and protects the rights of children and youth in homeless situations. Highlights include:
Immediate Enrollment - The right to be enrolled immediately in school, without immunization or academic records, and birth certificate, regardless of district policy.

Transportation - Students in highly mobile or homeless situations are entitled to transportation to and from the school of origin, if it is feasible, in the student's best interest, and requested by the parent, guardian, or unaccompanied youth.

Services - Students experiencing homelessness are entitled to the same programs and services that are available to other children in the District, such as gifted and talented education, special education, vocational education, English Language Learner services, and tutoring. Students are automatically eligible for Title I services and Districts must set aside funds as necessary to provide services.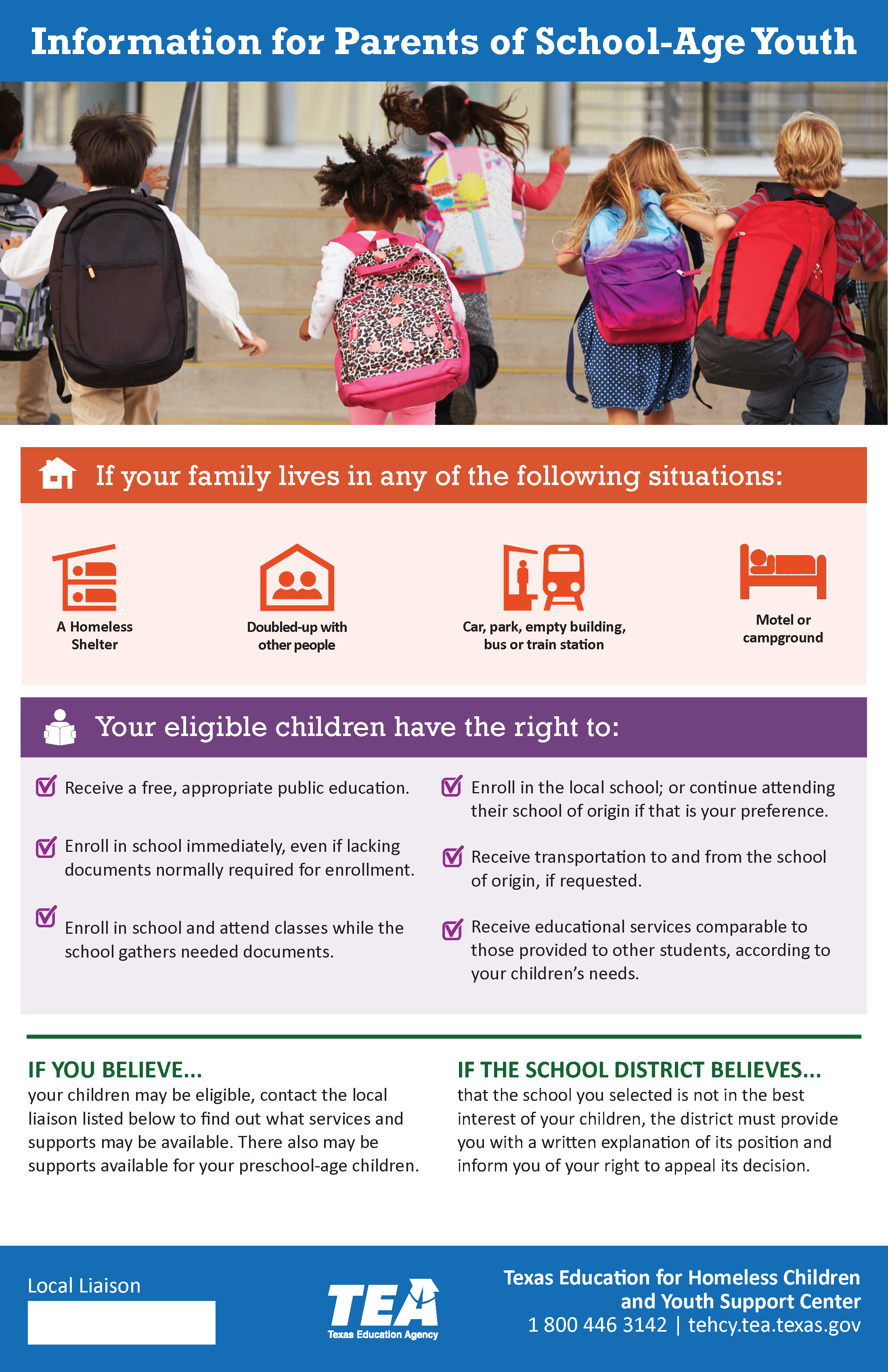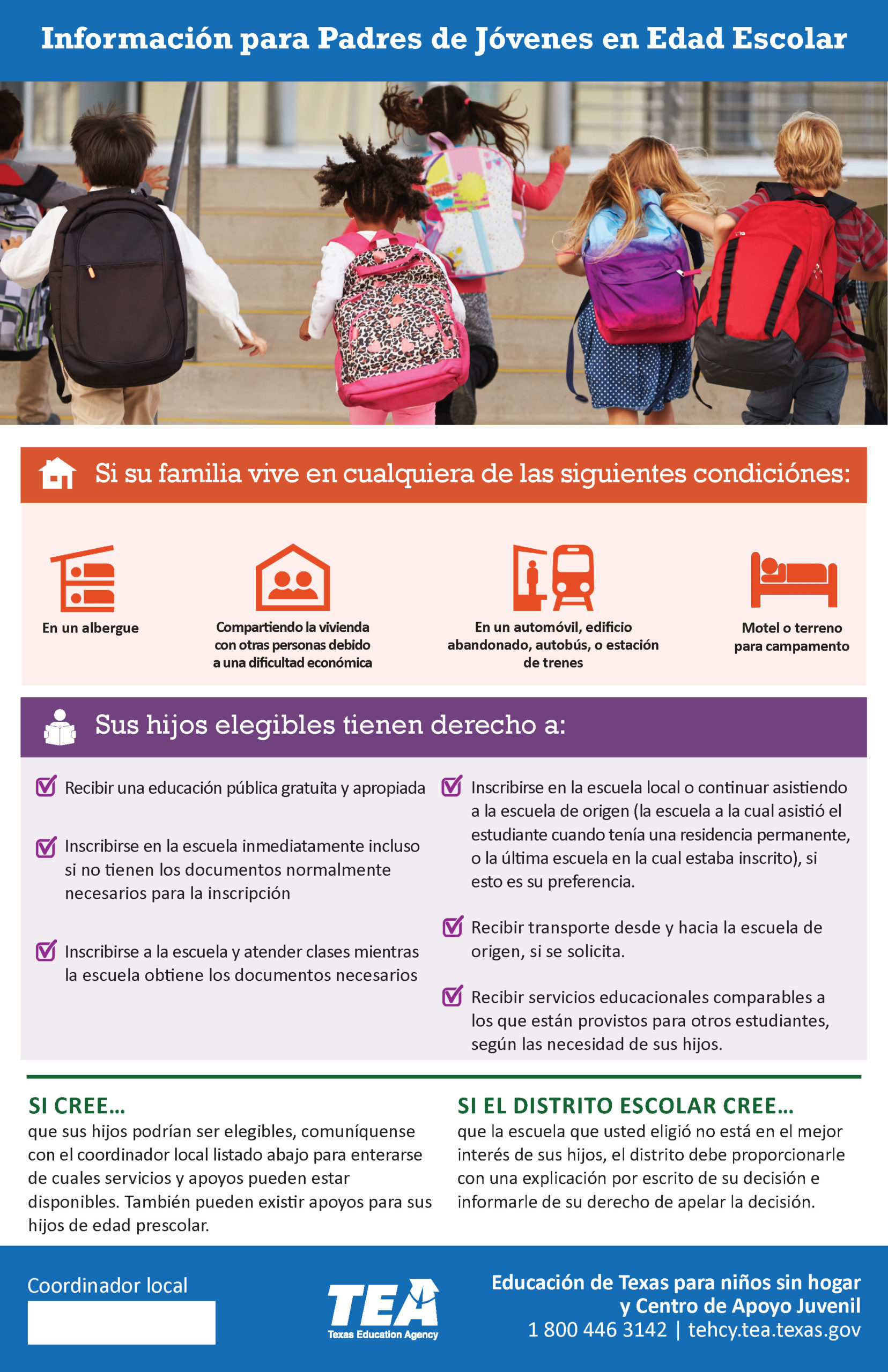 Foster Care
When children can't live safely at home and no appropriate non-custodial parent, relative, or close family friend is willing and able to care for them, the court can give temporary legal possession to CPS. CPS temporarily places these children in foster care. Foster care settings include:
Foster family homes

Foster family group homes

Residential group care facilities

Facilities overseen by another state agency
Foster care is meant to be temporary until a permanent living arrangement is found. However, it can become permanent usually when a foster parent adopts or accepts permanent managing conservatorship of a child.
Documents Needed to Enroll a Student in Foster Care
Birth Certificate or other proof of identity

Copy of previous school records

Proof of immunizations

Placement Authorization form (2085)

Copy of child's school records



La Grange ISD Title IX Coordinator: Superintendent Andy McHazlett.
Contact: PO Box 100 La Grange, TX 78945 979-968-7000
La Grange ISD's Title IX Administrator, Andy McHazlett, attended the Eichelbaum Wardell Hansen Powell & Muñoz P.C.'s 2021 Title IX Boot Camp and 2021 Title IX Administrator Conference. Materials from this conference, in compliance with Section 106.45(b)(10)(i)(D) of the regulations, are available upon request.
All La Grange ISD employees complete the online Eduhero training "Sexual Harassment for Educators". This training module may be reviewed by contacting the District Title IX Coordinator.