2019-2020 Events & Project Plans
Aug. 14 - Open House
Sept. 4 - Officer & Class Leader Meeting
Sept. 11 - 1st Meeting Sept. 12 - Start work on Homecoming Banner Sept. 23 - FCCLA Dinner & College & Career Night Sept. 24 - Fall Leadership Workshop for Officers & Class Leaders
Oct. 2 - Officer & Class Leader Meeting
Oct. 9 - Meeting
Nov. 6 - Officer & Class Leader Meeting Nov. 13 - Blood Drive Nov. 13 - Meeting
Dec. 4 - Officer & Class Leader Meeting
Dec. - Christmas Party - Las Fuentes
Jan. 8 - Officer & Class Leader Meeting
Jan. 15 - Meeting
Jan. 30-Feb. 1 - Region V Leadership Conference - Corpus Christi
Feb. 5 - Officer & Class Leader Meeting
Feb. 10-14 - FCCLA Week
Feb. 12 - Meeting
Mar. 3 - Dr. Suess' Read Across America - Hermes Elementary
Mar. 4 - Officer & Class Leader Meeting
Mar. 18 - Meeting Mar. 20 - STAAR Fair for Hermes Elementary
April 1 - Officer & Class Leader Meeting
April 2-4 - State Leadership Conference - Dallas
April 8 - Meeting
April 22-25 - Children's Health Fair on Courthouse Lawn
May 6 - Officer & Class Leader Meeting May - Real World Finance Activity
May 12- End of Year Recognition Event!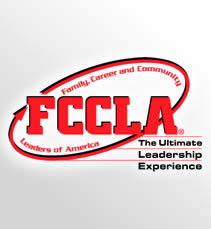 WHAT IS FCCLA? AS PART OF THE FAMILY CONSUMER SCIENCES PROGRAM,
FAMILY, CAREER, COMMUNITY LEADERS OF AMERICA IS A STUDENT-LED ORGANIZATION THAT HAS FAMILY AS ITS CENTER OF FOCUS. FCCLA WAS ESTABLISHED IN 1945 AS FUTURE HOMEMAKERS OF AMERICA. BUT TODAY...
...over 200,000 members in nearly 6500 chapters are active in a network of associations in 50 states including the District of Columbia, the Virgin Islands and Puerto Rico.
...Chapter projects focus on a variety of youth concerns including texting and driving, family relationships, substance abuse, peer pressure, environment, nutrition & fitness, financial management and career exploration.
...Involvement in FCCLA offers members the opportunity to expand their leadership potential and develop skills for life, not to mention FCCLA looks great on scholarship and job applications!
Learn about La Grange High School FCCLA!
To join LHS FCCLA:
1) Click the link to the 2019-2020 Membership Form and fill out the questions listed. Submit your form when you are done.
2) Pay your $25 dues, which can be paid by check, or by selling 15 dinner tickets & working at the dinner.
3) Once you are a member, attend our monthly meetings. Also help and attend the various projects that occur throughout the year.
To learn more about what Family, Career and Community Leaders of America has to offer at the Regional and State levels, check out the...
FCCLA is a national organization that impacts lives every day with educational and service projects around the country. See National FCCLA has to offer students, adults and alumni across the country.