President Katie Delgadillo
Treasurer Blythe Cone
Secretary Theresia Karstedt
Vice President of Scholarships
Tara Bennett
Vice President of Uniforms
Jena Bridgefarmer
Vice President of Chaperones
Susan Rausl
Vice Presidents of Social Events
-
Vice President of Props /Field Logistics
Kyle Adams
Vice President of Concession Stands
Lisa Muras
Vice President of Fundraising
Kim Newton
Vice President of Grant Writing
Deana Green
Website -
Tara Bennett - tara.bennett@lgisd.net
Meetings are at 6:30 P.M. (unless otherwise noted) on the first Tuesday of the month (with the exception of December & July) at the LHS Band Hall.
Next Meeting: July 25, 2023
WELCOME TO THE LA GRANGE BAND BOOSTER CLUB WEB PAGE!
Who we are:
Parents and other supporters of the Mighty Leopard Band
What we do:
Provide scholarships to the children of LGBBC members

Provide financial support for band trips for all members of the MLB

Provide reimbursement for partial cost of band camp for children of LGBBC members

Help the Marching Band at football games and marching contests
How we do it:
Drive-thru dinners held in the Fall and Spring

Football and Soccer Concession Stand

Bake sales

Other fundraisers
When we meet:
Our meetings are the first Tuesday of every month (except December & July) at 6:30 P.M. (unless otherwise noted) at the LG High School Band Hall.
Come Join Us!!
Thanks to all for helping the Boosters support the Mighty Leopard Band!
*Parents of Seniors MUST be members of the LGBBC by October 1, 2023 in order for those senior students to be eligible for the 2023-2024 scholarship!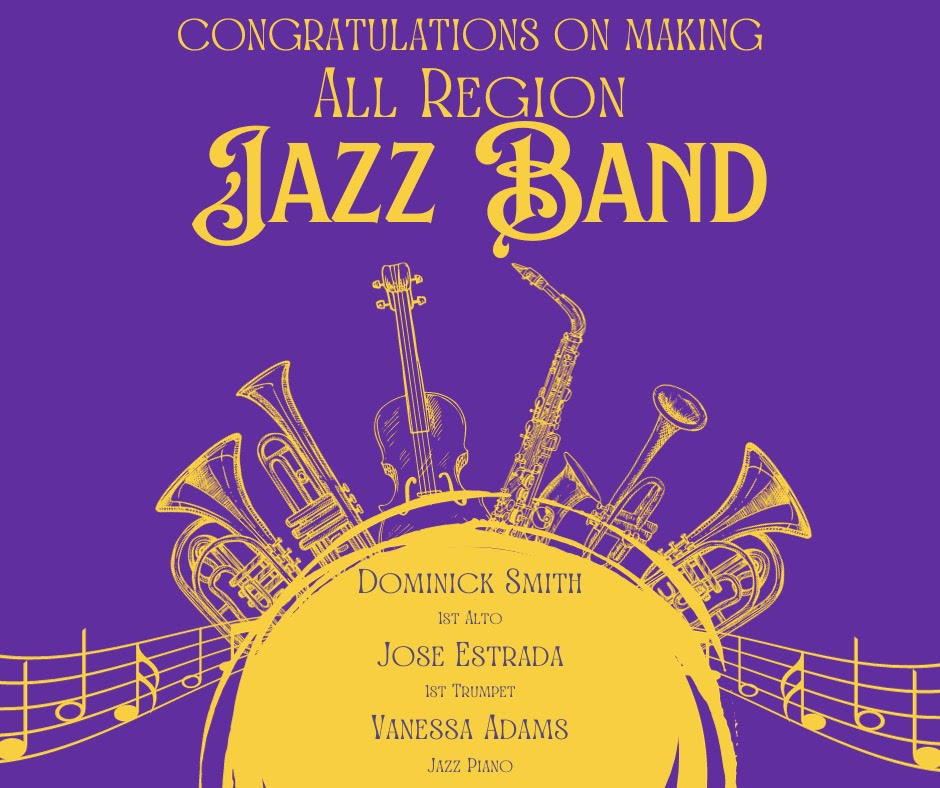 2023-2024 MIGHTY LEOPARD BAND SPONSORS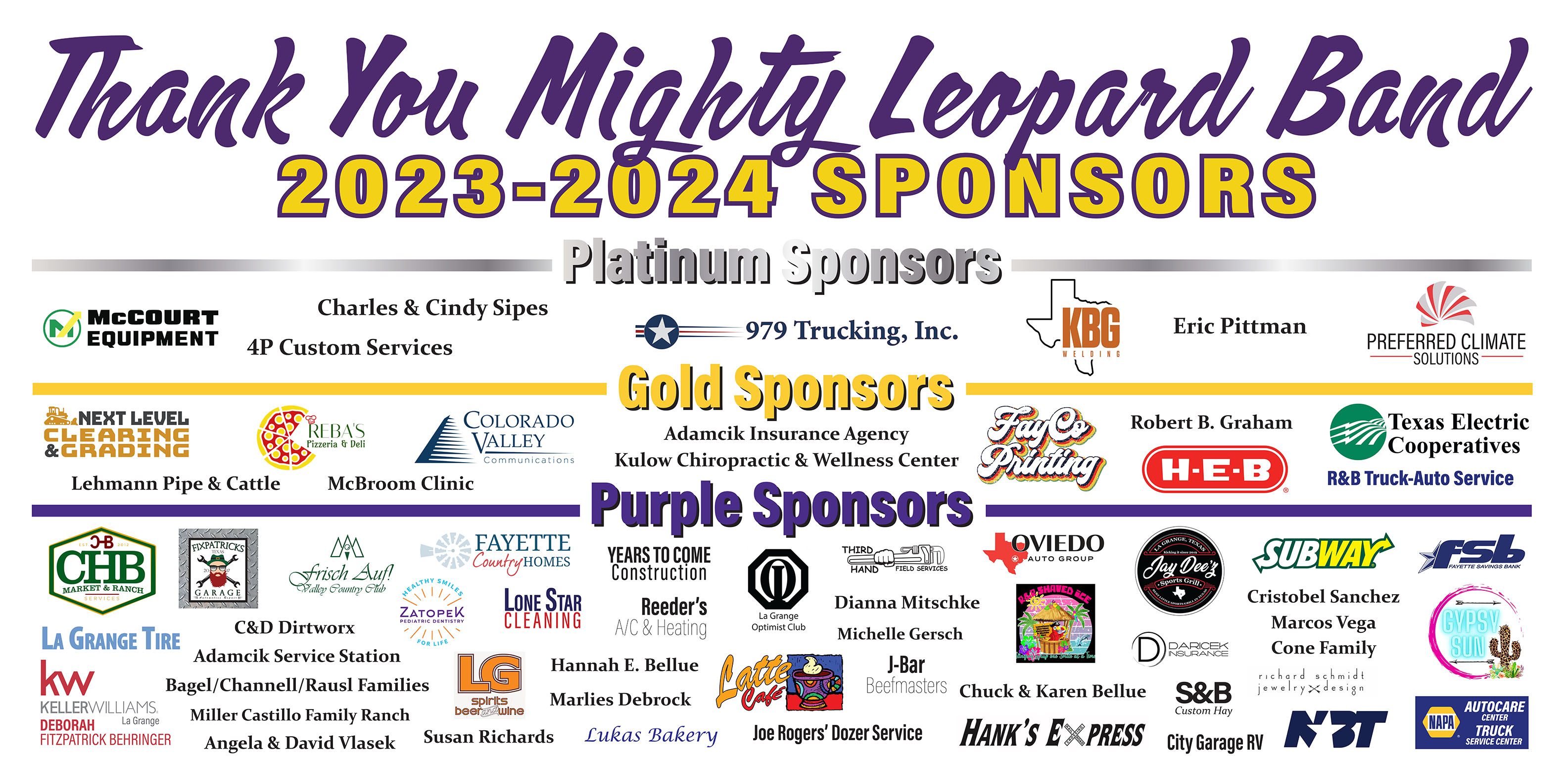 BAND SPONSORS
To become a band sponsor, contact a band student or download the form under links to the left.
Sandra E Kana, PCTerracon, Brawley Dental, Jones Insurance Services, Bodega Wine and Cheese Cafe, Lindemann Real Estate, Bloomin Junction, Alina's Store (Tienda Hispana LG), Koopmann Catering, Pecan Street Treats (Sara Nichols), Long Ranch & Home Services, Pat Janca Mutual of Omaha, Ben Schovajsa, Straight Line Svc LLC, Carlton Industries, Kleiber Tractor & Equipment Inc., Frogs & Flamingos Florist, Wess & Dawn Blackwell, The Jersey Barnyard, John Burkland, Fayette Medical Supply, Inc., The UPS Store 6974, Calvin and Gale Mersiovsky, Fitzpatrick Chiropratic, Cano Tire Service LLC, Botts Title Co., Mike and Karin Dehmer, The Belgian's Antiques, LLC, Circle C General Store, BEFCO Engineering Inc., Karen Robbins, Quality Hot Mix, Inc., Danny and Shae Ann Robbins, Txn Truck Wash, Fayette Electric Cooperation, Clear Title Company, Kim Barker, Anzaldua Family, Powerful Publications, Mike's Real Handy (Mike Terrones), Little Snap Stores, Inc., Ray's Crane Service, LPHaworth Roofing, Rose Urbanovsky, Thomas Cliffe, Las Fuentes Mexican Restaurant, Fayette Veterinary Clinic
FAMILY/INDIVIDUAL SPONSORS
To become a family or individual sponsor, contact a band student or download the form under links to the left.
C&C Sales, George & Vera Brandt, Beatriz Linares, Kathy Pfeiffer, Don Jones, Mike and Tara Pietsch, Vernon Asagba, Noel's Kitchen, Dr. L. Donald Mayer, Edwin and Tami Pietsch, R&D Truck Accessories, La Grange Nails, D&D Ace Hardware, Audrey Huenefeld, Tony & Louise Kneupper, Dr. L. Donald Mayer, Libby's Kitchen & Studio, Chip Bubela, La Grange Laser Engraving, La Grange Gym, Prosperity Bank, Dylan Robbins, Brandon & Angela Gooch, Doug's Cheesecakes, Dakota Robinson, Boehm Family